Daisuke Saiki
Biographical Information
Full Name:
Kotori Monou
Age:
Unknown
Status:
Deceased
Allegiance
Family:
Seiichirou Aoki (uncle)
Unnamed Cousin
Unnamed Aunt
Residence:
{{{residence}}}
Physical Description
Gender:
Male
First Appearance
Voice Actors
Japanese:
Kishō Taniyama
English:
Richard Cansino
Daisuke Saiki
 (砕軌 玳透 
Saiki Daisuke
) is Seiichirō's nephew also a wind magician, though not of Seiichirō's calibre.
Appearance
Personality
Biography
Past
Anime
He was killed by a powerful blast by Fūma.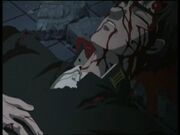 Manga
He is brutally decapitated by Fūma while protecting Hinoto.
Powers
Relationships
Kamui Shiro
Saiki and Kamui initially do not get along very well, as the stoic and strictly by-the-rules Saiki was not completely convinced that Kamui was the one on which the fate of humanity rested; later, they understand each other better and become friends.
Princess Hinoto
Saiki lives to protect Hinoto, whom he seems to have affections for.
Appearances
Other appearances
In Tsubasa: Reservoir Chronicle, he appears as Subaru's replacement as a fighter of the Tower faction in Tokyo.
Quotes
Anime
Manga
Trivia
Community content is available under
CC-BY-SA
unless otherwise noted.